Super Affiliate Accelerator (SAA)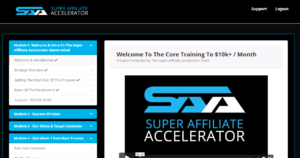 A screenshot taken from the Super Affiliate Accelerator member's area
Super Affiliate Accelerator (SAA)
What exactly is the Super Affiliate Accelerator or SAA?
Super Affiliate Accelerator is an invitation only mastermind that is designed to teach you how to become a well rounded online marketer.  One who can not only crush high ticket offers but any offer that you choose to market.
As an online marketer, you are going to want to know the ins and outs of marketing.  You are going to want to know how to brand yourself.  You are going to want to learn how to jump on the phone with someone and close a high ticket deal.
In order to be a successful marketer, you need to learn the fundamentals of building a brand, building an audience, and then learn the psychology behind converting that audience into an audience of buyers.
If you are at a point in your business where you feel like you know what you are doing, but maybe not seeing the success that you hoped for, then Super Affiliate Accelerator may be a good fit for you.
SAA will give you a proven strategy that has worked for it's creator Jacob Caris.  Jacob is a full time online marketer who has won numerous awards and been at the top of many leader boards in the marketing community.
What will you get when you invest in Super Affiliate Accelerator?
When you invest in the Super Affiliate Accelerator mastermind, you will get access to an exclusive member's area worth way more than what they are charging.
With hours of video content available and resources available for you to download and use, you will have exactly what you need to take your marketing to the next level.
You will be taught how to clean up your Facebook profile to start branding yourself and attracting people who will want to work with you.
You will be taught the types of Facebook posts to post in order to get maximum engagement which will also help attract others to you.
Once your Facebook profile has been optimized to attract the right people to  you, you will learn how to build a tribe of people who will want to learn from you and who will start to know, like, and trust you.  People who will want to learn what you are doing and people who will buy from you.
You will also learn the skills of getting prospects into your messenger and getting them to jump on a phone call with you so that you can close a high ticket sale or any sale.
You will also get access to a private Facebook group where the three mentors jump on weekly calls to answer any questions or address any issues.
The private Facebook group is full of supportive members who always make you feel welcome and who will celebrate any wins with you.
This unique community offers support and assistance so that you are never alone on your journey.  As online marketers, there is often a feeling of loneliness or disconnect so it is vital to have a support system to help when you feel stuck.
When will you see a return on your investment?
As with any business, both time and money are often required to get up and running.  The Super Affiliate Accelerator should be seen as an investment.
This is an investment into yourself and your education.  It is an investment into you as a brand.  If you are not willing to see this as an investment into yourself and your business, then this mastermind is not for you.
As far as an exact timetable as to when you will see a return on your investment...
As soon as you dive into the training available and actually start implementing what you are learning, you will see a return in your investment.  It may not be a monetized return right away but it will definitely be a knowledge return.
If you are consistent with learning and implementing then you will eventually see a monetized return on your investment.  The growth that you will see in your engagement and brand will far outweigh the monetized return right off.
If all you are looking for is to get rich quick and not put any work in, then this is not for you.  If instead you are ready to invest and put some work it to growing your brand and learning the fundamentals that will help you market and sell anything, then take a look at the case study here and make the decision for yourself.
**Disclaimer** This article includes affiliate links.  If a purchase is made using an affiliate link, commissions could be earned.